Barnes & Noble ups the ante with the Nook Touch Reader
by Matt Marusiak on May 26, 2011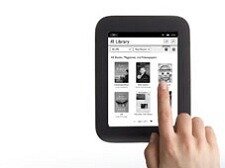 The e-book war between Barnes & Noble's Nook and Amazon's Kindle is getting hotter with the introduction of the Nook Touch Reader.
This latest offering from Barnes and Noble has a 6-inch screen, uses E Ink Pearl technology for the display, and weighs less than 8 ounces. The device's battery lasts up to two months per charge, has Wi-Fi connectivity (but no 3G), and comes with 2 GB of memory installed. It's reasonably priced at $139, and will be available starting June 10.
And the Nook Touch Reader has no buttons, while the has 38 buttons – as gleefully pointed out by Barnes & Noble chief executive William Lynch. Reviewers, such James McQuivey, gushed over the device:
"The new Nook is going to be a hit," McQuivey said. "It is so much simpler to use than even the Kindle that the less tech-driven people who will buy their first eReader this year will find it very appealing. And the price is right for that audience, too. Barnes & Noble is surely hoping that its stores will help sell these lightweight devices by letting people heft them and experience the joys of touch-oriented reading."
But will the simpler device make up for less content? Although Barnes & Noble claims over 2 million titles (including magazine and newspaper along with books), Amazon still has three times as many paid titles. To compete with Amazon with the slicker device, Barnes & Noble needs to up its game on content. And, no doubt, Amazon will be on Barnes & Noble's heels with their own next generation e-reader.
As the book industry continuously improves their e-readers, one also has to wonder how green these devices are, particularly if they end up in a landfill every time a new model comes out. If Barnes & Noble and Amazon want to show how environmentally responsible they are, they need to provide an option for readers to return old e-readers for upgrade or recycle.
Next article
Previous article