PaperPhone makes chunky smartphones and copy paper passé
by Kathryn Robbins on May 6, 2011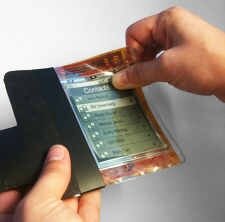 When it comes to technology, thin is in. We've gone from the portly Walkman to the tiny iPod Nano and from the brick sized cell phones in the 1980s to skinny smartphones. A team of researchers from Arizona State University, Canada's Queen's University, and E Ink Corporation want to change the game again with the razor thin PaperPhone that may also create a paper-free workplace.
Unlike the rigid nature of Apple's iPhone, the PaperPhone is actually flexible. The device comes with a 3.7 inch flexible E Ink display that lets users bend the phone to perform certain tasks. Sensors on the back record your choice of "gestures" to help you navigate through your information quickly. Roel Vertegaal, Director of Queen's University Human Media Lab said that the phone "does everything a smartphone does, like store books, play music or make phone calls." And like it's E Ink cousin the Kindle, PaperPhone doesn't use any energy when it's not in use.
While the PaperPhone may have a huge impact on the smartphone industry, it may make an ever bigger splash in the workplace. Since users can actually write on the screen, larger versions could mean that an office could really be paper-free. Super-sized versions of the PaperPhone could replace legal pads, sticky notes, copy paper, and printers. , director of the Queen's Human Media Lab said,
"You could have a PDF on one display — or several stacked in a pile one on top of another — and write on it, annotate it, read it, navigate it and that would be your portable computer. Then if you want to bring it with you, you roll it and stick it in their pocket like you can do with paper."
Like any other new technology, the PaperPhone isn't cheap; the tiny device is worth about $7,000. Dr. Vertegaal hopes that in coming years multiple sizes will be available at prices as low as $1.00.