BMW chasing electric car mark with the BMW i, but it may be too slow
by Matt Jansen on February 22, 2011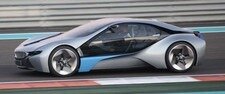 BMW has traditionally focused on an affluent customer segment, and the target for the upcoming all-electric BMW i is no exception; it just also allows that same segment to feel guilt-free. The company began working on electric cars in 2007, calling its endeavor Project i. It's great to hear that BMW is putting some focus on electric cars but with a release date targeting 2013 it may be a little late to market.
Before looking why the BMW i may be late to market, it's important to understand some of its features. The BMW i will come in at least two different flavors: the four seat i3 and the sporty i8 which the company claims will reach 60mph in 5 seconds. Carbon fiber is used in the passenger compartments on top of an aluminum chassis and taller, narrower wheels than a traditional car. Great stuff, but one key point drivers will probably look at is all-electric range, especially given options like the Chevrolet Volt and some plug-in hybrid Prius options on the way from Toyota.
Case in point, BMW claims the i8 will travel up to 30 miles using just electricity before switching to power generated by an onboard 3-cylinder diesel motor. Considering the Chevrolet Volt, while probably not quite as affluent or luxurious a brand as BMW, already provides 35 miles of all-electric range according to its EPA rating. BMW's i8 number could go down further after the EPA evaluates it, and the price tag won't be cheap. And, it isn't releasing until 2013, that gives competitors a chance to leapfrog those mileage ratings.
Of course, the segment BMW is targeting may not care that much about mileage rating, but it may irk them that a Chevrolet Volt is even in the same echelon. Acceleration is a whole other matter, and BMW certainly has that nailed. Regardless it's exciting to see this enthusiasm from a luxury car company in the electric car space. It will only serve to drive more innovation.