Sprint putting money where its mouth is with phone buyback improvements
by Matt Jansen on February 27, 2010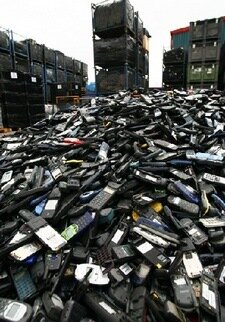 Recently the CEO of Sprint, Dan Hesse, presented some of his company's green priorities to a committee in Washington. While the news isn't as exciting as the buzz flying around about the HTC SuperSonic potentially hitting Sprint's WiMax network, it's good to know that the company is taking sustainability seriously by empowering its customers to easily recycle their old phones.
Sprint already had a phone buyback program in place but has expanded the number of devices it will accept. As an example I have an HTC Hero and I'm able to score a $121.87 account credit. Granted, with an HTC Hero that's in good working condition eBay would probably provide a greater return in cash but that takes the gumption to set up a listing and ship it.
Americans are only recycling about 10% of the 140 million phones they trash each year. That means the vast majority are sitting in landfills taking years to decompose, and many of them probably have batteries still intact which creates toxic seepage and some of that inexorably makes it through landfill safeguards into the ground soil.
So how far has Sprint expanded it's phone buyback program?
Sprint's new, expanded Buyback program now accepts all eligible wireless devices, regardless of manufacturer or carrier. Through this new Buyback program, current or new Sprint customers can go to one of the more than 1,000 participating Sprint-owned retail stores nationwide or go online to www.sprint.com/recycle to convert any eligible old Sprint, Verizon Wireless, AT&T or T-Mobile network phone into an instant account credit.
That's a great expansion, though an option for phones that aren't a part of that "eligible" keyword would be ideal, even if it meant just recycling the phone without an account credit.
Sprint is also introducing a new set of standards for any manufacturer that wants to distribute a phone on its network. For manufacturers that means sustainable materials, streamlined packaging, an elimination of hazardous materials, interoperable accessories, and easy to recycle. Maybe that means the rumored HTC SuperSonic will be following some of those guidelines.
It's good to see this focus on green from Sprint and hopefully it continues on that path.