Nissan's latest ad for the Leaf exacts revenge on Chevy's Volt
by Kathryn Robbins on May 29, 2011
in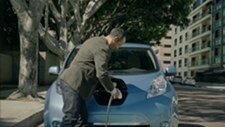 Rivalries aren't a foreign concept in the business world. Coke hates Pepsi, Microsoft can't stand Apple, and Boeing certainly isn't Airbus' BFF. It seems that these spats have leaked into the growing world of EV's and hybrid cars. After their EV was equated to a leaf blower in a Chevy spot, Nissan has exacted their revenge on the gas powered Volt in a new ad.
Nissan didn't exactly start this fight with Chevy over green cars. Before the rollout of the Volt, they started running ads for the car in several markets voiced by Michigan native Tim Allen. The starts off with some encouraging words for a lowly outlet in a garage that would be used to charge up the Volt's battery, cut alongside shots of the car in action. The ad seems harmless until the car finally reaches the garage; as the driver plugs the Volt into the wall Allen tells the outlet, "Get psyched, it's a big step up from the leaf blower."
If your company had spent a number of years and countless hours developing one of the first mainstream EVs, Chevy's ad would certainly get your attention. In the current climate of rising gas prices they decided to go after the Volt's reliance on fuel with a campaign called "Nissan Leaf: Gas Powered Everything." The spot starts off with a couple going about their morning routine with a twist; everything from a hairdryer to an MP3 player are powered by gas. One workplace scene even shows a gentleman gassing up his laptop via a tricked out water cooler.
The skewering portion of the ad features the previously mentioned man gassing up his Chevy Volt, looking off into the distance. Then actor Robert Downey Jr. chimes in asking, "What if everything ran on gas? Then again, what if everything didn't?" The ad cuts to a driver unplugging his Leaf and setting off on a drive.
Instead of firing back with a carefully worded press release, their parent company hopped on Twitter to bemoan the fact that Nissan had the gall to criticize the Volt. GM product and brand communications chief Jason Laird continued the company's obsession with range anxiety when he tweeted, "A carmaker poking gentle fun at our product ignores towtrucks they need and rental cars they recommend as backup to their product."
The Volt may have gotten a boost from its backup gas powered engine but it may also be a drawback in the age of high gas prices. Combined with the fact that the Leaf is much cheaper than the Volt, Nissan may have a real hit on their hands for drivers that don't need a huge range. All they need to do now is to finally get the Leaf in some showrooms.
Related articles
Prius owners lose their cushy carpool lane pass July 1st