Nubo water bottle system makes tap water taste terrific
by Matt Marusiak on April 21, 2011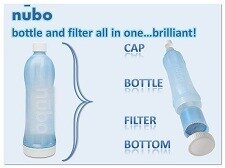 You want to be healthy and drink water rather than soda or a sugary fruit drink. You know that bottled water costs 1900 times more than tap water. You know that bottled water uses 1.5 million barrels of oil per year for both the manufacture of the plastic and the transportation of empty bottles to the bottler and full bottles to stores. And you know that, in spite of the best intentions for recycling, 86% of the bottles are thrown away.
But your tap water tastes awful, too much like chlorine. Before you settle on buying bottled water, however, it might be worth trying the Nubo reusable water bottle filtration system.
Nubo's innovative design integrates a water filter into in the bottom of the water bottle. The bottle is filled by removing the bottom cap and letting water pass through the filter. The filter uses coconut shell activated carbon, which removes up to 98% of chlorine, and is silver impregnated to inhibit bacterial growth.
Although the filter exceeds NSF standard 42 for chlorine taste and odor through 53 gallons, Nubo recommends replacing the filter every three months or 350 uses, which would come to about four uses a day or around 44 gallons. They have an automatic reorder program that ships a new filter every three months, so you don't have to remember when to replace the filter.
The bottle is a rigid bottle that will last many uses. It's made of LDPE, is free of BPA, and has no estrogenic effects. It is dishwasher safe – but be sure to remove the filter first! The top and bottom caps are screw caps. One issue with the bottle is that it doesn't have a pop-up cap option. Both hands are required to open the bottle for a drink, which could be a problem while driving or riding a bicycle.
The Nubo water bottle is a great way to save green while being green. With the Nubo system, a year's worth (1400 uses) of good drinking water would cost less than $30. At $1.50 for a 16 oz bottle of water, that much consumption would come to $2100 a year. Even compared to buying only one bottle of water daily, using Nubo would still save over $500 annually.
Although the Nubo water bottle filtration system is great for making tap water taste good, it is not a water purifier and is meant to be only used with tap water.
So if you have great tasting tap water – drink it! If not, or if you are looking for a reusable bottle to travel with you, give Nubo a try.