What would Martin Luther King Jr. say to us about the environment?
by Peter Daining on January 16, 2010
in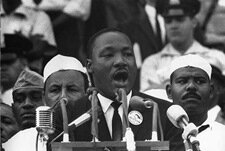 On the weekend we celebrate with pride the legacy of Martin Luther King Junior, it's worth a look back at some of his famous remarks, this time from an environmental perspective.
It's obvious that King was a man who respected the earth, just like he respected it's people. He preached a philosophy of responsibility, unity and nonviolence: Three valuable lessons for anyone trying to make an impact in and on the environmental world.
Responsibility
King: Nothing in all the world is more dangerous than sincere ignorance and conscientious stupidity.
I wish I had a count of the number of times friends and family members have asked me to stop talking about factory farming or environmental degradation because they just didn't want to think about it. If we would only let our mind get the facts straight, our consciences would do the rest.
Unity
King: Our loyalties must transcend our race, our tribe, our class, and our nation; and this means we must develop a world perspective.
Would we allow the people of Haiti to live in huts in one of the worst hurricane allies in the world if we thought of them as our brothers and sisters?
Nonviolence
King: The hope of a secure and livable world lies with disciplined nonconformists who are dedicated to justice, peace and brotherhood.
Think of this quote in the context of the environment's biggest issues. Drought. Pollution. Sustainability.
A peaceful, fruitful world really will take a new, Martin Luther King-like worldview. King would have asked that we step up to this task, and take on the duty of cleaning up our act with a new and greater vigor. And not to give up hope. Because, as King said, "Even if I knew that tomorrow the world would go to pieces, I would still plant my apple tree."
Perhaps not surprisingly, MLK's son, Dexter Scott King, is following in his father's footsteps with a modern-day twist. The younger King is a vegan, and says the health benefits and an appreciation for animal rights is an extension of his father's philosophy of nonviolence.