GMs and Nissans partly made of pineapples? - "Green" plastics for automotive industry
by Vlado Milosevic on March 30, 2011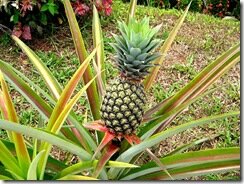 Researchers from Brazil announced successful development of a new form of plant fiber-based plastic as stiff as Kevlar and supposedly stronger, lighter yet more eco-friendly than plastics currently in use. Can we expect fiber-based dashboards in future Nissan leafs, GM Volts etc.? Are these fiber-based plastics truly eco-friendly?
When finely grinding up cellulose tiny fiber particles are produced. Mixing these tiny particles, which are so small that 50,000 of them could fit into the width of a human hair, into the plastics, results in stronger and more durable plastics. Alcides Leao, the team leader responsible for the development of fiber-based plastics sais, that these nano-cellulose fibers can be almost as strong as Kevlar, and in addition, they are a renewable source.
To produce these nano-cellulose fibers, leaves and stems of fruits such as bananas, pineapples or curaua are placed into a pressure cooker, where certain chemicals are added to the mix. After several heat cycles, a fine powder is produced. In more practical numbers: one pound of nano cellulose could be enough to produce 100 pounds of fiber-based plastics.
So for a 1% "eco-friendliness of plastics" increase, we need to gather, transport, cook, and mix cellulose with chemicals in order to produce 1% of nano-cellulose fibers. We than add these nano-fibers to remaining 99% of plastics, which we are producing anyway.
GREEN VERDICT: In order to truly grade the "greenness" of this technology, we would have to compare effective inputs of energy, materials and eco-impact of "regular" plastic vs. the new fiber-based plastics. For now though, it doesn't look as if your GM Volt, Nissan Leaf or Toyota Prius might be "pineappleized" with fiber-based plastic dashboards any time soon.
(photo Source: 1.bp.blogspot)